Equity Release Business Loan
Easily access the equity in your property to immediately fuel your business
Tired of being messed around for weeks and months to get a response from your bank?
Tired of the endless questions and requests for documentation, only to have your business loan application declined?
You're unfortunately not alone. Thousands of business owners face the same challenge every day.
Thankfully, that's where we come in. We have helped 1000's of property owners like yourself with our EQUITY RELEASE Business Loan.
Get pre-approved online in a couple of minutes, and funding is as fast as 24 hours later.
We don't require any cashflow records, BAS Statements, or Annual Tax Returns. We just require enough equity in real estate security, and a business purpose for the use of funds.
How do I calculate the available equity in my property?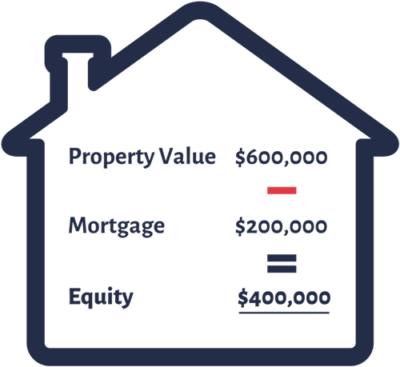 What are the benefits of our EQUITY RELEASE Business Loan?
Loan Amount
$20,000 to $2,000,000
Loan Term
1 - 24 months
Repayments
Either No Repayments during the loan term and lump sum at the end of the term, OR the "Interest Only" option, with interest paid monthly. The choice is yours.
Use of Funds
Loans must be for business use, or commercial investment purposes.EG: starting a business, expanding a business, buying a business, saving a business, paying business debts, paying businesss tax debts, buying real estate (in a company name), and a variery of other commercial purposes.
Interest rate
When you can make a lot of money in your business if you could only access the capital in 24 hours, interest rates are generally not even an issue.
However uur rates are the most competitive in the industry, and best of all, we don't engage in any of the sly tactics of many other private business lenders where they offer an unbelieveably low rate, but catch you out with huge undisclosed fees.As our loans are for a short term, they are broken down into a Per Month rate. An obligation free loan proposal will be provided to you with interest rates listed for your consideration. Most of our clients find their rate very competitive, especially when you can literally get the funds in 24 hours,However, if you don't find it suitable, you are free to withdraw at no cost
Frequently Asked Questions
Property equity is the difference between the property's value and mortgage owing.
As an example, a $900,000 property with $300,000 mortgage owing has an equity of $600,000.
Equity Release is borrowing against part of that available equity.
You can borrow up to 75% of the property value. Our loan amounts range from $20k to $2 million
NO. if your "Exit Strategy' is to refinance, you can refinance through any lender and via any broker you like.
It only takes 24 hours from your initial application to have the funds in your account. That's one of the great things about our EQUITY RELEASE Business Loan.
Either is fine. The two main things we need to know is that there is a business or commercial purpose for the funds, and sufficient equity for the amount you want to borrow. If those 2 things stack up, you're APPROVED!
Rates and costs are based on risk, plus we believe in personalising a rate that works for you. An obligation free loan proposal will be provided to you with the interest rate and costs CLEARLY listed for your consideration.
Unlike many other business lenders, we don't engage in 'smoke and mirror' tricks where they lure you in with a cheap rate, and catch you out with huge (often undisclosed) fees.
Most of our clients find that their rates are very competitive, especially when they consider they are getting the funds in just 24 hours. However, if you don't find it suitable, you are free to withdraw at no cost.
Unfortunately not. All of our loans (including our Equity Release business loan) must be wholly or predomanely for business purposes.
If you have a property (real estate security) that has sufficient equity, you can unlock the equity in your property and turn it into cash to support your business.
The amount that you can release depends on how much your property is worth, and how much is currently owing on it.
To apply, simply fill out our online form and get the pre-qualified result in 60 seconds.
This means once your application get approved and the loan agreement signed the funds from your EQUITY RELEASE Business Loan will be transferred to your account. From start to finish it generally only takes 24 hours.
Equity release business loans are loans where the borrower uses their property as collateral, allowing them to access the equity in their property for business purposes without having to sell it.
To be eligible for an equity release loan, the borrower must typically be a homeowner and have significant equity in their property
Yes, in most cases, it is possible to pay off an equity release loan early. However, there may be early repayment charges associated with paying off the loan before the end of the agreed term
Yes, you can take out an equity release loan even if you have an outstanding mortgage on your property.
Yes, it is possible to take out multiple equity release loans over the course of your lifetime. However, each additional equity release loan will increase the amount you owe and will also reduce the amount of equity you have in your property.
It depends on the lender and the terms of the leasehold agreement. Some equity release lenders may not offer equity release loans on leasehold properties